Difference between revisions of "How to Connect"
From UO Darwinism
Line 78:
Line 78:
 
 
 

UPDATED HUE FILE:

 

UPDATED HUE FILE:

−

[https://www.dropbox.com/sh/s875b2tquiec37a/AAC5WWIyO1U3XaXPn5Y7opEUa Hue File] Download

+

[https://./Hue File] Download

 
 
 

[https://www.youtube.com/watch?v=0XvOJ-4J7DM Watch Video] if you need instructions on how to intall the hue file

 

[https://www.youtube.com/watch?v=0XvOJ-4J7DM Watch Video] if you need instructions on how to intall the hue file
---
Revision as of 00:21, 2 November 2017
Connect
Our development team is excited to present UO Darwinism. Our world is a dynamic adventure that will challenge even the best players. Our Staff and Scripters are all professional and mature…we all have a passion for Ultima Online and work on this shard to provide the most enjoyable gaming experience possible.
Make sure you take the time to watch the video below and download the custom client+patch to see all the new artwork, buildings and mounts. If you log in without the proper patch and see the wrong images, you missed a step somewhere. Our shard is very unique and has 1000s of custom scripts and totally new graphics for the monsters and mounts that you have never seen before… it's well worth the effort!
RunUO 2.1 SA SVN Client 7.0.13.4
Host Address play.uoDarwinism.com and the Port is 2593
In order to connect to the Ultima Online UODarwinism shard, you must first have a couple of programs installed, along with the Microsoft .Net Framework. The video below will explain the steps you need to get playing quickly.
Software to Download
Patching your UOD custom client is highly recommended to play on UO Darwinism. Without the proper patch, you won't be able to see the custom buildings, clothing, items, mounts and colors.
Follow these easy steps:
Step 1 - Confirm you have .net framework
You need the microsoft .net framework to run properly. Most new computers will have this software, if you have an old operating system you may have to download.
Step 2 - Download Ultima Online 2D client
Head over to the UO.com website and download the latest 2D client!
Step 3 - Download Client
If you don't already have UO Steam Download or Razor Download download it now.
Step 4 - Update client to live
Update your client to the latest client on OSI!
Step 5 - Point client to shard
Open UO Razor, AssistUO or UO Steam and set the shard server to play.uoDarwinism.com and the port to 2593
Next, use the browse button to point to the UODarwinism custom client folder that was created by the auto installer. It usually is found in the C: > Games > UODarwinism Custom Client

Step 6 - Log In
Open UO Razor, AssistUO or UO Steam and log in. You can now create your account.

NOTE: This UOD Custom Client will be a separate client download, and will not effect any other clients you may have on your computer. This new UOD client+patch can be used only to connect with the custom UO Darwinism Shard.
UO Steam or Razor, 3rd Party Client Loaders
UO Steam is the recommended client: UOSteam Download



Razor is also available: UO Razor Download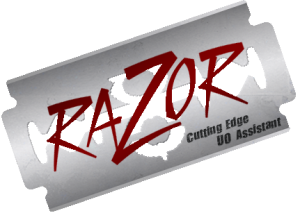 UO Steam and Razor are easy Client Loaders and helps make game play much easier with the added use of hotkeys, macros, and much more.
NOTE: When loading these programs, start by right clicking the icon on the desktop and select "run as administrator"
Setting Up
Double-click AssistUO, UO Razor or UOSteam and open it up, look at the gump
Under the data directory click browse and navigate to the new UOD folder you just created
For the Host Address, put play.uoDarwinism.com and the Port should be 2593
Connecting to the game is as easy as ever, all you have to do is make up an account name, and password. You will then be allowed to create your character and move into the game world.
NOTE: if you are running the operation system Vista Or Windows 7 you many need to right click the program and select "run as administrator"
Ultima Online Wiki
Updated Hue File
Many old players asked for an expanded hue file with more color choices, so we made this new file for you to add to your existing patch.
You only need this IF you have our old client. If you have recently downloaded our patch/client it is already included and installed!
UPDATED HUE FILE: Hue File Download
Watch Video
if you need instructions on how to intall the hue file